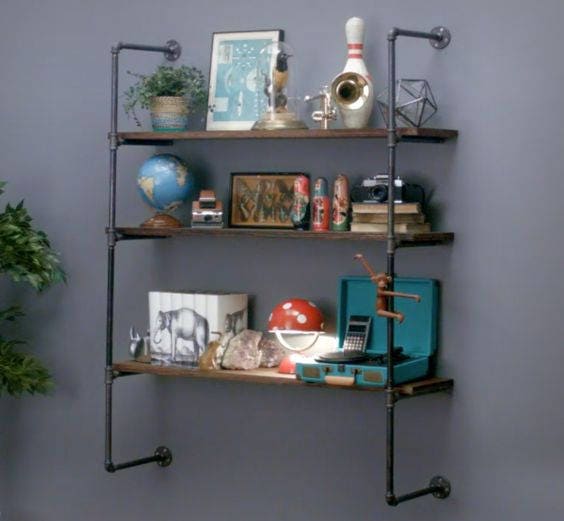 Pipe Shelving System, Open Shelving Wall Unit, Parts Kit "DIY", Easy to Assemble, Up to 5 Shelves

CLICK BELOW FOR MORE OPTIONS

https://www.etsy.com/listing/531402833/black-pipe-shelving-open-wall-unit-wall


The newest industrial urban plumbing pipe interior decor. Great for homes, offices, pubs, restaurants, clothing stores or anywhere that you want to install a true conversation piece with an industrial look.

I have sold hundreds of these shelving units and customers have raved about the unique industrial look and ease of assembling the shelving units.

Easy to Assemble

In the drop down menu options choose the shelf depth (4", 5", 6", 7", 8", 9", 10", 11", 12", 14", or 18" depth from wall)

There is approximately 12" in between each shelf (except for the second shelf from the bottom which has 14" in between).
This shelving unit completely assembled without wood shelving weighs approximately 22 pounds.

The height of this shelf system is approximately 54" tall.

This shelving unit can hold up to 5 shelf boards.

Shelf boards are not included but can be purchased inexpensively at Home Depot.
Click on the link below for an example.

https://www.homedepot.com/p/2-in-x-12-in-x-8-ft-Premium-2-and-Better-Douglas-Fir-Lumber-707195/202094201

The shelf support pipes are listed by the length of the pipe. Once the pipe and mounting flange are installed the space where the shelf will rest will measure 3/4" - 1" shorter so for example, if you purchase 8" wide shelving they will actually measure 7"-7-1/4" depending how tightly you screw the pipes together (for your shelf to rest on).

All black iron pipe and fittings are sturdy 1/2" diameter and can hold up to 200 pounds.

Wood shelf boards not included with this listing. Many customers prefer to supply their own shelf boards from a local Home Depot or lumber yard and save on the shipping costs associated with the lumber delivery.

The Width of the shelving unit is customizable to your specifications (depends on the length of your shelving). Not recommended over 60" apart without an additional support bracket.

Measurements are approximate and may vary slightly depending on how tightly the pipes are fastened/screwed in.

Easy "do it yourself" project for your home or office.

Assembly and cleaning of pipe is required.

Mounting screws not included.

More Shelf Bracket/Shelving Options @

https://www.etsy.com/listing/261226133/industrial-black-iron-pipe-shelf?ref=shop_home_active_5

SAVE hundreds of dollars off of my competitors pricing by doing this "DIY" project yourself.
Similar completely assembled shelving units cost over $400 on ETSY! This is your chance to save money and build it yourself.

100% satisfaction guaranteed or your money back.

Each purchase will include all of the parts needed (pipes and fittings) to complete this unique open bookshelf system.

If this bookshelf isn't exactly what you're looking for I can also customize a bookshelf hardware kit to fit your needs. Send me a message with a description with measurements of what you want and I can put together a quote for your custom bookshelf.

**Wood shelves not included with purchase.

Fully customizable shelving support system to accommodate shelving from 16" to up 60". You decide how wide you want the Bookshelf System. If you think you'll need more than 2 support brackets I can customize this unit and listing for you, just ask.

You can request custom orders if you need 3 or more support shelf brackets (for extra support for units over 60" wide).

Shelf brackets can be spaced more or less depending on thickness of shelf boards and preference of spacing (size of shelf unit).
Shelf brackets can hold over 150 pounds if properly fastened into wood wall framing.

Detailed assembly instructions can be emailed to you upon request.

****All of the parts to build the shelving unit are included with your purchase except for the wood shelf boards.

Assembly and cleaning of pipe is required.

***NOTE: If this bookshelf isn't exactly what you're looking for I can also customize a bookshelf hardware kit to fit your needs. Shoot me a message with a description with measurements and I can put together a quote for your custom bookshelf.Please reference the Q & A section in my Etsy shop for instructions on cleaning and more details regarding the black pipe products sold in my store.Assembly instructions for the "DIY" kits will be emailed to your Etsy account email once you have placed your order.
Let me know if you have any questions.
Water should not be used to clean the iron pipe. It will discolor the pipe and fittings.NOTE: Pipe threads will show a little bit and therefore will not screw in all of the way. That's how they're made (slightly tapered pipe threading).
Returns & Exchanges
I gladly accept returns, exchanges, and cancellations
Just contact me within: 3 days of delivery
Ship items back to me within: 14 days of delivery
Is the black pipe painted?
"Black pipe" is the construction industry name used for this type of piping. It is dark in color (not black but a more dark gray color) unpainted steel like what is used in construction projects. This is typically what is often used in authentic industrial decor and interior design. The "black pipe" is paintable.
Care instructions
The black pipe "DIY" items are delivered as a parts kit and need to be cleaned (please read the listing product description). They have a thin coating to protect the pipe from scratching during shipping/delivery. I like to use A degreaser from Home Depot like ZEP 505 or a similar product in the spray bottle. Simply spray on the pipe and wipe off. Repeat this a few times to be sure all of the remaining coating is clean.
Custom and personalized orders
Many of our products are customizable including the shelving units and table base frames. If you have an idea for one of these items message me with your idea and include as many details as possible (with a sketch or photo example if you have one). Typically I can give you a quote for a table frame if I have the desired pipe diameter (1/2", 3/4", or 1"), length, width/depth, and height.

For shelving units I will need height (from ceiling to the bottom of the unit), shelf depth, space in between each shelf (in inches), number of shelves you want and the diameter size of pipe (1/2", 3/4", or 1" available).