You don't have to live in a farmhouse to capture the style of one perfectly. Farmhouse style is typically described as simple, casual, livable, and cozy. Now, farmhouse is not the same style that your grandma's tchotchke collection evokes. It's more sophisticated and more practical.   In a farmhouse-inspired home, you'll usually find light walls, wood floors, vintage inspired accessories, open shelving, and natural textiles. The furniture flows but doesn't have to match perfectly. Authentic farmhouses made do with what they had, and still managed to incorporate a great deal of charm. It takes a bit of a time commitment to do farmhouse style well, since years of sentiment can't be bought all in one day.   
By its textbook definition, industrial style refers to an aesthetic trend in interior design that takes cues from old factories and industrial spaces. Since old factories have been converted to loft apartments in urban environments, many homeowners have embraced cool metals, exposed brick, and a number of other unexpected materials in everyday spaces.  Industrial style is open and durable, but if well balanced, warm too. Any industrial-inspired space will have metals and woods, along with plenty of neutral colors that look distressed, raw, and a little unfinished.   Farmhouse and Industrial styles are very similar in the sense that they mostly seek to mirror a simpler time. A time when products were practical, well-made, and had more purposes than one. With both, pieces that boast a bit of wear-and-tear are prized possessions.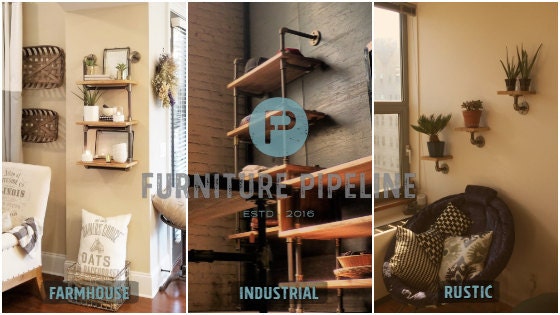 Just like with any category of style, there is a spectrum. On one side, rustic style is straight out of a cabin in the woods. However, a taxidermy bear and antler chandelier are not required to succeed in achieving the coziness of a cabin. Homeowners everywhere are bringing leather chairs, dark stains, wood beams, and natural stone into their homes.   While it does have some unique characteristics, rustic style is like a combination of industrial and farmhouse vibes. Similar to both, rustic furniture is a little bit weathered and durable enough to withstand a little tough love. Rustic rooms value exposed elements on the interior like beams and stone, and mirror farmhouse styles with tendencies toward lighter woods and sentimental decor.